According to Colorfabb, nGen, it is a low-odor, styrene-free co-polyester. It has a glass transition temperature of 85°C which makes it good for applications where it get hots, like a car interior, or even parts for a 3D printer. But it is as easy to print as PLA like Colorfabb claim? Too good to be true? Or really the next generation of filaments? Let's find out.
Colorfabb nGen Filament Specifications
Material – nGen (a co-polyester)
Colour – Light blue
Diameter – 1.75mm
Filament weight – 750g
Print temperature – 220-240°C
Bed temperature – 75-85°C
Manufacturer's site:
What is a co-polyester
Co-polyesters (CPE) is a family of filaments with 3 interesting properties.
Chemical-resistance: making them a superb choice for printed parts that will be in close contact with harsh substances.
Temperature resistance: making them a splendid choice for warm/hot environments.
Post processing: which means they can easily be sanded and drilled.
For more information on co-polyesters, see this site:
Printing with Colorfabb nGen Filament
So let's get down to business and do some printing. Where to start?
Is it like PETG or PLA?
Nowadays, most people use PLA, or at least start off with it. And then, depending on their needs, some end up using PETG. I'd say in my experience these are the two most common material types that people use. Its temperatures suggest something more like PETG. My primary printer is a Prusa i3 MK3S, and Prusa recommends a textured sheet for PETG. So let's start with a generic PETG profile and see how well it works with a co-polyester like nGen.
I set the printer and left it to do its thing, but upon return the Colorfabb nGen had warped. This is a part I have had problems with before (which makes it a great torture test). I print it with 4 perimeters and 35% rectilinear infill, which makes for a very solid item. But this part is more prone to warping in an unenclosed space. However, to be fair to the Colorfabb, this was one of a few models that caused warping.
This slideshow requires JavaScript.
But! And this is a big butt! Just look at the underside of the print – the texture of the printed surface. This is probably the best first layer I've seen, with no sign of the original filament's extrusion lines. This really is textured perfection. A massive plus for Colorfabb nGen!
Now, it may be worth mentioning that nGen liquifies more than most filaments at its printing temperature. There are reports around the web that this has caused some oozing of the filament between the heat block and the nozzle which can make a bit of a mess. I didn't suffer from this. But I think this liquefaction leads to that amazing underside.
Colorfabb nGen is less PETG, more PLA
I have printed a full 750g roll of the Colorfabb nGen filament and started on a second roll. I found that using nGen is like printing with PLA as it bridges nicely and I didn't get any genuine problems with stringing. But when it comes to print temperatures, it's much more like PETG.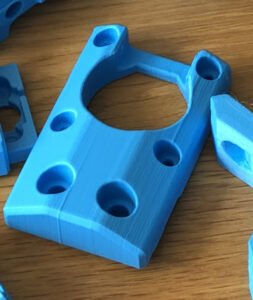 Textured or Smooth build plates?
I used both a smooth and a textured build surface and it printed great on both. I ended up printing at 230c and a bed temperature of 75c worked well for me. Adhesion on the textured surface was almost as good as with PETG. And recall the surface quality that was amazing. On the smooth plate, it also stuck very well and created a very smooth surface. Visually, this is a great filament. The colour is very strong and saturated. The layers are smooth and even. Every one who saw the colour fell in love with it.
All good? Any problems with Colorfabb nGen?
There is a 'but' though. It's very brittle. I was printing mechanical parts for a printer. This photo is from a stepper motor holder, and a piece snapped off with minor force. I printed it with 4 perimeters and 35% infill, so should be nice and strong! I also have done a temperature tower from 210c to 250c, and it was also very easy to break apart at all temperatures. That was a disappointment, so I abandoned using it for printer parts.
The co-polyester verdict
Colorfabb's nGen is not cheap. It's around €35 for 750g. I love the light blue colour, and I am thrilled with the visual result, but you'd have to weigh up if that balances the cost. I cannot recommend the filament though if you want to use it for tough mechanical parts.
out of stock
as of September 21, 2023 10:03 am
out of stock
as of September 21, 2023 10:03 am
If you are interested in trying out other types of filaments, why not read about Polycarbonate 3D Printer Filament.
Summary
The colours are deep, its a good quality product that's pretty easy to use. But can be brittle.
Final Score
78%
7.8
Great colours