3D Modeling there is not a lot of limitations stopping the designers from making there imagination to the digital world. From futuristic, architecture and amazing game characters, there is a huge amount of masterpieces out there for your next project.
What we have here is a selection of websites, model archives, content albums and applications. They offer both free and paid models to download on all of them. You can search through to find the perfect model to 3D print. Whether it be from tabletop gaming, arts and crafts, or your next electrical project, on some of the websites, you can also do a lot more, contact the author, make a library of the 3D models you like.
Are you looking for a place to sell your next money-making 3D model, well some of these places have a market place where you can upload your model and set a price? So yes payment can be made on some of these websites that bring us to 3D printing for profit that would be in another article.
1. Cults 3D
Cults 3D offers the best, high-end 3D-printable models in the market. The strength lies in the organisation of its exceptional designs. You can search through hundreds of categories and reach your desired STL design spot on. On Cults a lot of 3D drawings are available for free; other more professional ones come at a very nominal price. The website can become the best source for you to get models for 3D printing services.
2. Thingiverse
Next up is Thingiverse. It is perhaps one of the largest STL databases on the internet. Thingiverse's strength lies in its active contributing community that uploads hundreds of new STL designs every day. It offers you free STL designs and the ability to download models without even having to log-in or make an account on the website.
3. Pinshape
Pinshape has a wonderfully well-organised database of 3D print models. The excellent collection of more than 13000 3D-printable models contains great designs, of which some are free while others are available at an affordable price. The visuals of the website are great and help the visitors to reach the design they are searching for quickly. If you want the best designs for 3Dprinting services, then Pinshape is the best place for you to get them.
4. MyMiniFactory
MyMiniFactory is managed by iMakr. Every STL file available on the website is pre-tested by the community and thus offers a highly reliable set of designs. And if you can't find what you're looking for, you can contact MyMiniFactory's designers to develop you the model on demand. Your 3D printing service could not ask for more.
5. YouMagine

YouMagine, managed and owned by Ultimaker is another excellent website to find 3D printable models. They offer high-end models that are delicate and designed to perfection.
6. 3D Warehouse
3D Warehouse is a unique database for all types of 3D designs. You will have to put a search filter for 3D-printable STL files to see only the 3D printable models. As the name suggests the warehouse hosts thousands of 3D printable designs for your 3D printing services.
7. 3DExport
3DExport contains a lot of 3D printable models, but you need to set a search filter for that. The available 3D printable models are delicately designed and come in all dimensions.
8. 3Dagogo
A group of hackers created 3Dagogo from California, but you shouldn't be afraid of them as they are offering an excellent marketplace for selling and buying 3D printable designs. Also, an extensive library of free plans is available for you to get the best STL designs.
9. GrabCad
Stratasys, the owner of GrabCad, is one of the leading brands of the US when it comes to 3D printing services. Website is focused on engineers and provides excellent mechanical designs for students and professionals alike. GrabCad's has a versatile library that contains everything ranging from vehicles to jewellery. It's the ideal spot for you to be if you want to grab the best STL designs.
10. Yeggi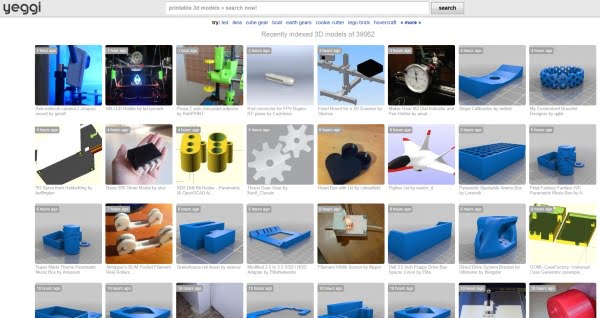 You can consider it to be the "Google" of 3D printable models. Yeggi search databases of all the websites mentioned above and route you to the relevant design and its developers.
3D Printed Fountain How And Why Check It – hello all, I will explain how and why I created a beautiful 3D Printed fountain that contains only one cheap pump and nothing else!
11. STLFinder
STLFinder is the most powerful 3D model search engine with more than 2.5 million 3D models indexed from a wide variety of repositories all over the Internet. This platform is a handy tool for people who are looking for digital models in the two main areas:
3D printing designs
Today, 3D printing is a constantly growing market due to the great penetration of 3D printers in the home. The fact that anyone can make almost any object in its house, whether to make a prototype or some kind of gadget for its personal use, makes it a great attraction for the general public.
Such as you are looking for a specific 3D model or trying to find something interesting to manufacture with your 3D printer, this is the right place for you.
3D design projects
Many times we need to find 3D models for any type of project such as games, virtual reality, augmented reality, 3D visualization applications and 3D animations. Using this search engine, you can save a lot of time locating the model that fit your needs and your project.
12. Embodi3D
This is the largest and fastest-growing library of 3D printable medical models generated from real medical scans on the Internet. A unique scientific resource, most of the material is free. Registered members can download, upload, and sell models. To convert your own medical scans to a 3D model, take a look at democratiz3D, our free and automated conversion service.
| | | |
| --- | --- | --- |
| Site | Model Types | Free/Paid |
| Cults 3D | 3D Printing, Gaming, Explicit | Both |
| Thingiverse | 3D Printing | Free |
| Pinshape | 3D Printing | Both |
| MyMiniFactory | 3D Printing | Free |
| YouMagine | 3D Printing | Free |
| 3D Warehouse | 3D Printing, Architecture/Visualization, Animation, Gaming | Free |
| 3DExport | 3D Printing, Animation, Gaming, Graphic Design | Both |
| 3Dagogo | 3D Printing | Both |
| GrabCad | 3D Printing, Engineering | Both |
| Yeggi | Everything | Both |
| STLFinder | Everything | Both |
| Embodi3D | Medical | Both |
Some of the text from this article is from All3DP. Check out their article on 3D printing website